Written and Photographed by Stephanie Williams, Project Coordinator
Earth Month is already over! It feels like it rushed by as fast as stormwater over a downtown Seattle sidewalk. In order to draw out Earth Month and make it last, The Nature Conservancy participated in two recent launch events that will lead to slowing down that same urban stormwater, allowing it to pass more slowly over trees, plants and soil so it's cleaner and healthier for Puget Sound and its communities.
King County's One Million Trees Campaign launch on April 14th and the City of Seattle's Equity and Environment Agenda Announcement on April 22nd marked the beginning of The Nature Conservancy's increased collaboration with local communities to improve water quality in the region.
King County's One Million Trees Campaign Launch
King County has ambitiously committed to planting 1 million trees between now and 2020 as part of their larger Strategic Climate Action Plan. They smartly partnered with The Nature Conservancy to help get the job done. Although it would have been easier and cheaper to plant all the trees in existing forests and rural areas, our Puget Sound Conservation Director, Jessie Israel, got King County decision-makers enthusiastic about putting a good portion of those trees back into our cities.
After County Executive, Dow Constantine, reminded the multi-generational audience at White Center Heights Park of the gravity of climate change and the importance of partnerships to get big jobs like these done, Jessie spoke about how planting trees connects to our Nature Conservancy work with WATER and CITIES.
Addressing the dozens of wide-eyed primary school children sitting cross-legged on the ground in front of her, Jessie explained that nature in cities is the remedy for stormwater that runs through dirty streets and off parking lots, polluted by oil and chemicals and then ends up in our streams and rivers. She created the imagery of trees acting as a giant umbrella that protects the community and ensures the water coming down from the sky is slowed and cleaner when it reaches Puget Sound.
One of our major partners for stormwater projects was also present to celebrate the start of this campaign. Steve Shestag, Boeing's Director of Environment, Health, and Safety, followed Jessie's remarks by adding, "It's events like this and groups like [The Nature Conservancy and others] that do an amazing job to inspire us at Boeing Company to go out and do great things not just for technology and science, but for the environment."
Using their golden shovels, the County Executive, Jessie, Steve and some eager kids took turns packing soil around a young douglas fir to kick off this five-year campaign.
It may seem that tree planting is cliché and outdated. This event, the beginning of a project of epic proportions, was a reminder of how planting trees is still very relevant and a crucial part of tackling stormwater issues and improving the livability of urban neighborhoods.
Seattle's Equity and Environment Action Agenda
A week later, on Earth Day, Seattle Mayor Ed Murray revealed his new Equity and Environment Agenda, developed by over 800 local community participants. Standing in front of the greenish gray water of the Duwamish and surrounded by local community leaders, Mayor Murray passionately spoke about how environmental degradation and poor water quality disproportionately affects low income areas and communities of color. "Seattle's environmental progress and benefits must be shared by all residents no matter their race, immigration status, or income level." His blueprints for action include offering low-priced fruits and vegetables to families enrolled in the city's preschool program, environmental positions for city's youth summer employment program and having a full time environmental justice advisory committee, among others.
Nature Conservancy team members were eager to be present at Duwamish Waterway Park as the Mayor rolled out his plan to incorporate strong economic justice policy to affect change. The announcement of this agenda opens up more opportunities for The Nature Conservancy to partner on urban clean water initiatives in these very important communities.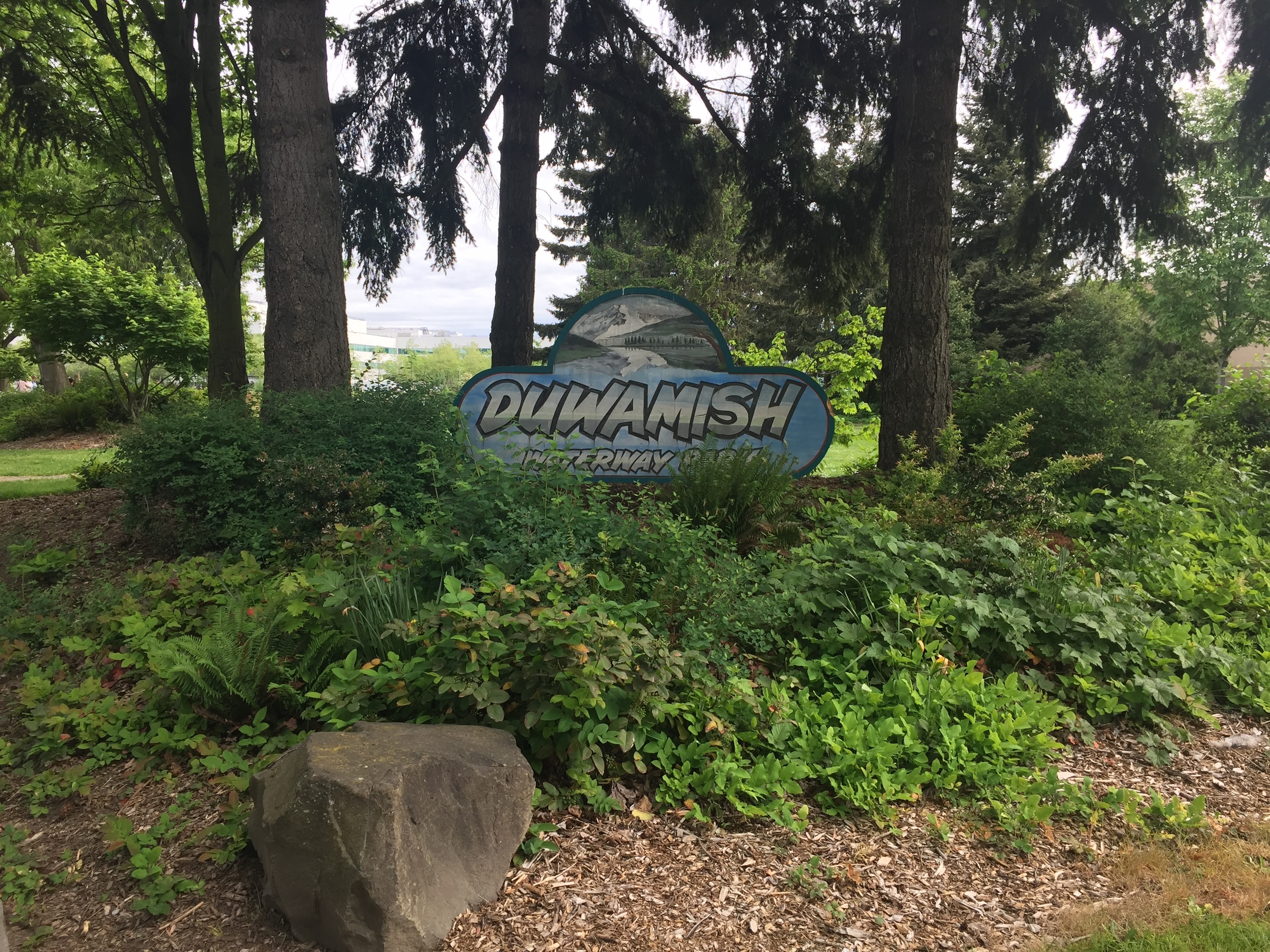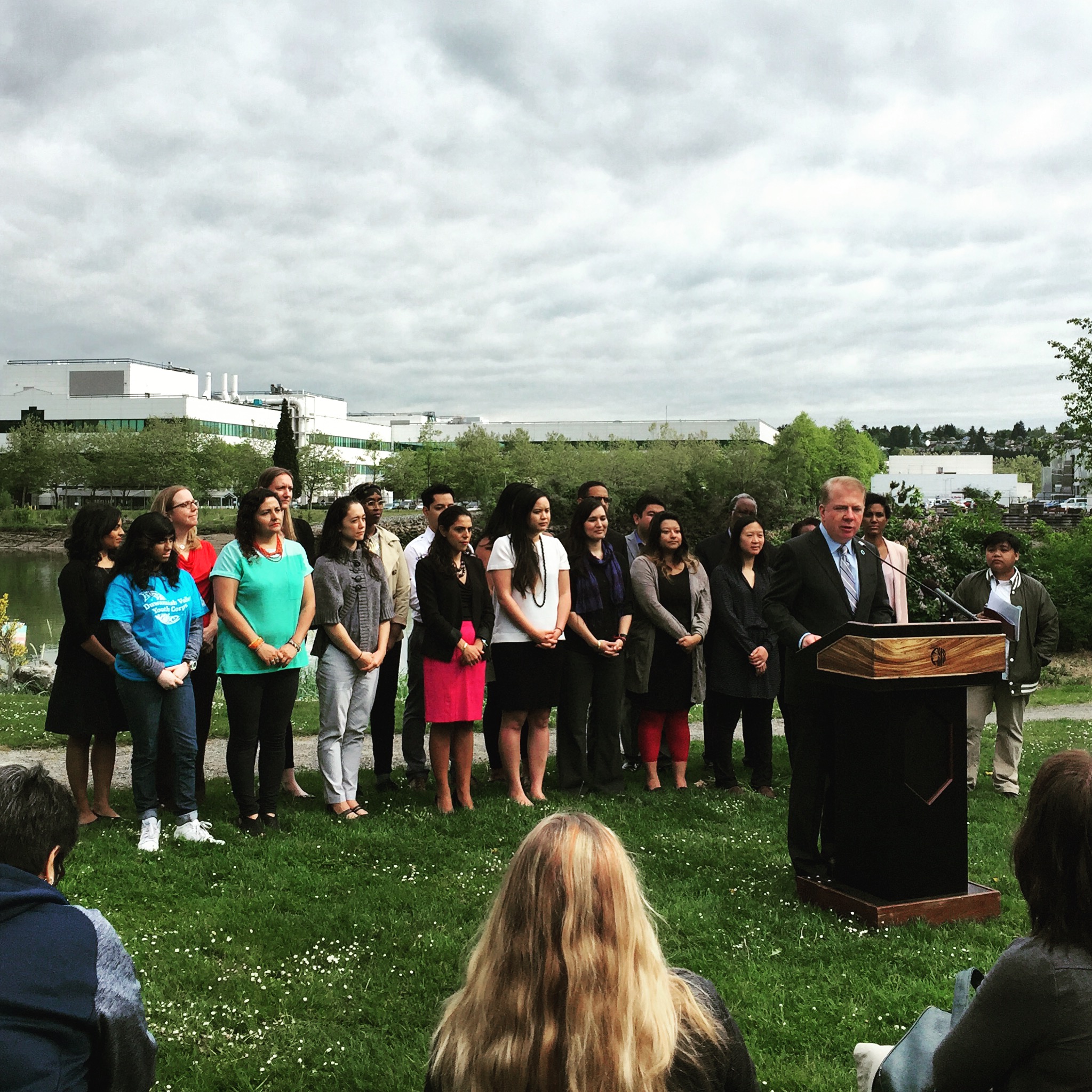 Shelina Lol, a bright-eyed 16-year sophomore at Chief Sealth High School spoke about what this equity and environment initiative means for her as a multi-lingual immigrant from Fiji and also for her South Park community. With frustration and heartbreak in her voice, she spoke about not being able to safely play in the river and despite contamination risks, many of her neighbors still fish in the Duwamish because they can't afford other sources of food.
Despite the disadvantages they face, Shelina and her fellow Duwamish Valley Youth Corps members have already done projects like installing raingardens, to improve water quality in their area. The City of Seattle's Equity and Environment Action Agenda means raingardens are just the beginning for improving water quality in marginalized communities. The Nature Conservancy is proud to be part of this inclusive movement that will help make clean water for all Puget Sound communities a real possibility. We are excited by the initiative demonstrated by the Mayor and City of Seattle because it aligns with our organizational priorities to accelerate action on stormwater, water quality issues and environmental justice.
Earth Month is over but The Nature Conservancy is energized by these two new opportunities to continue connect people with clean water!