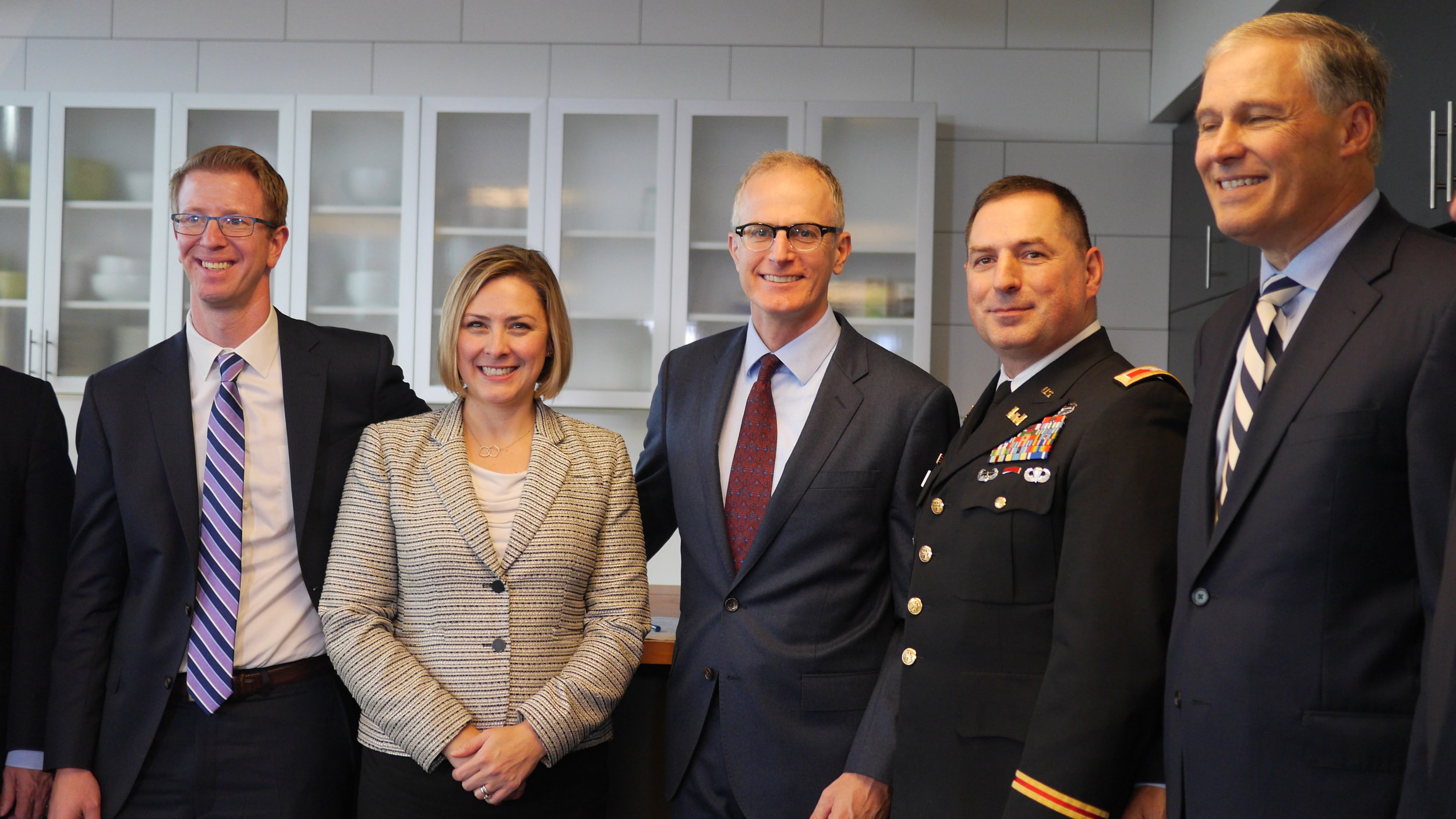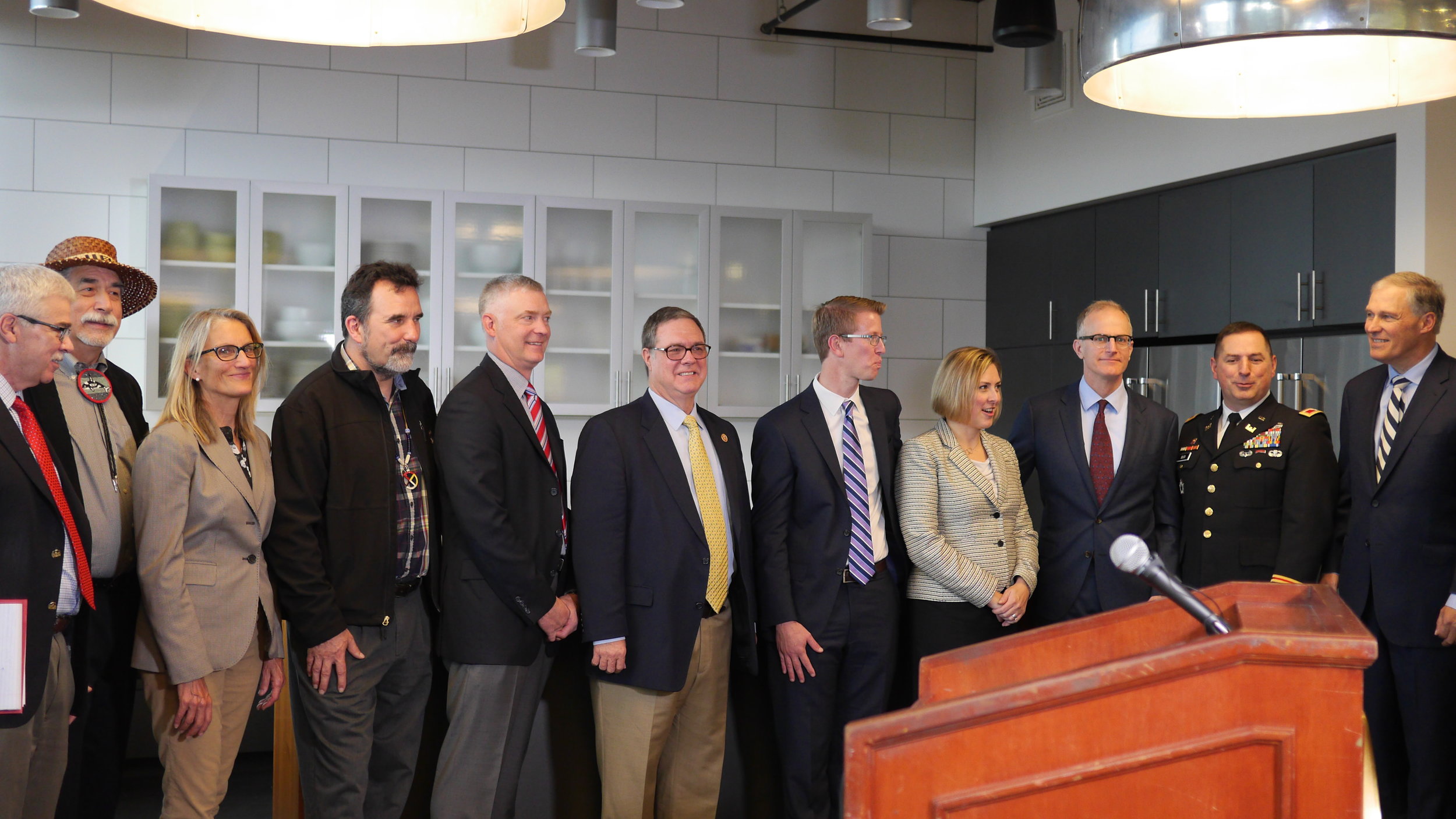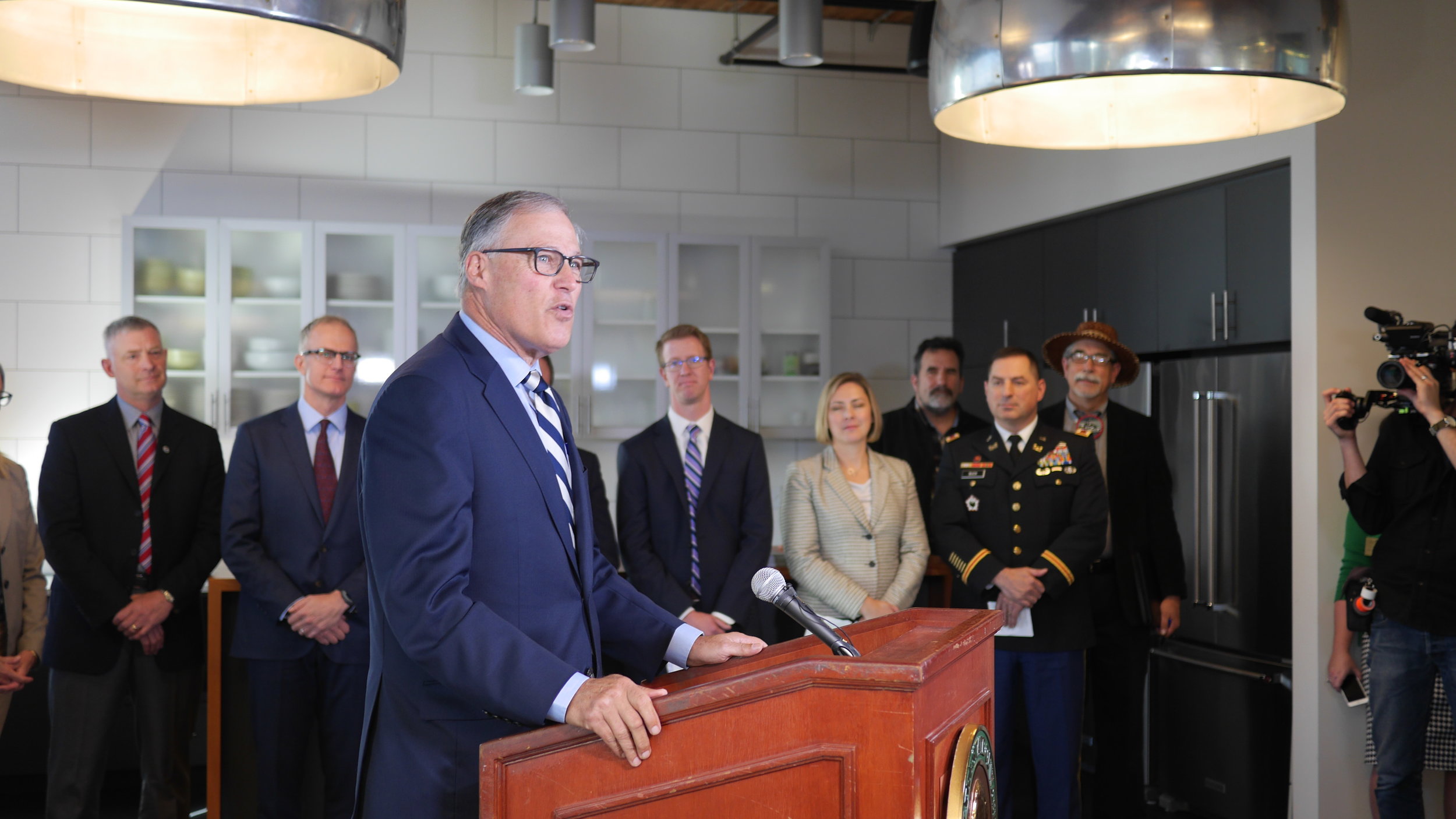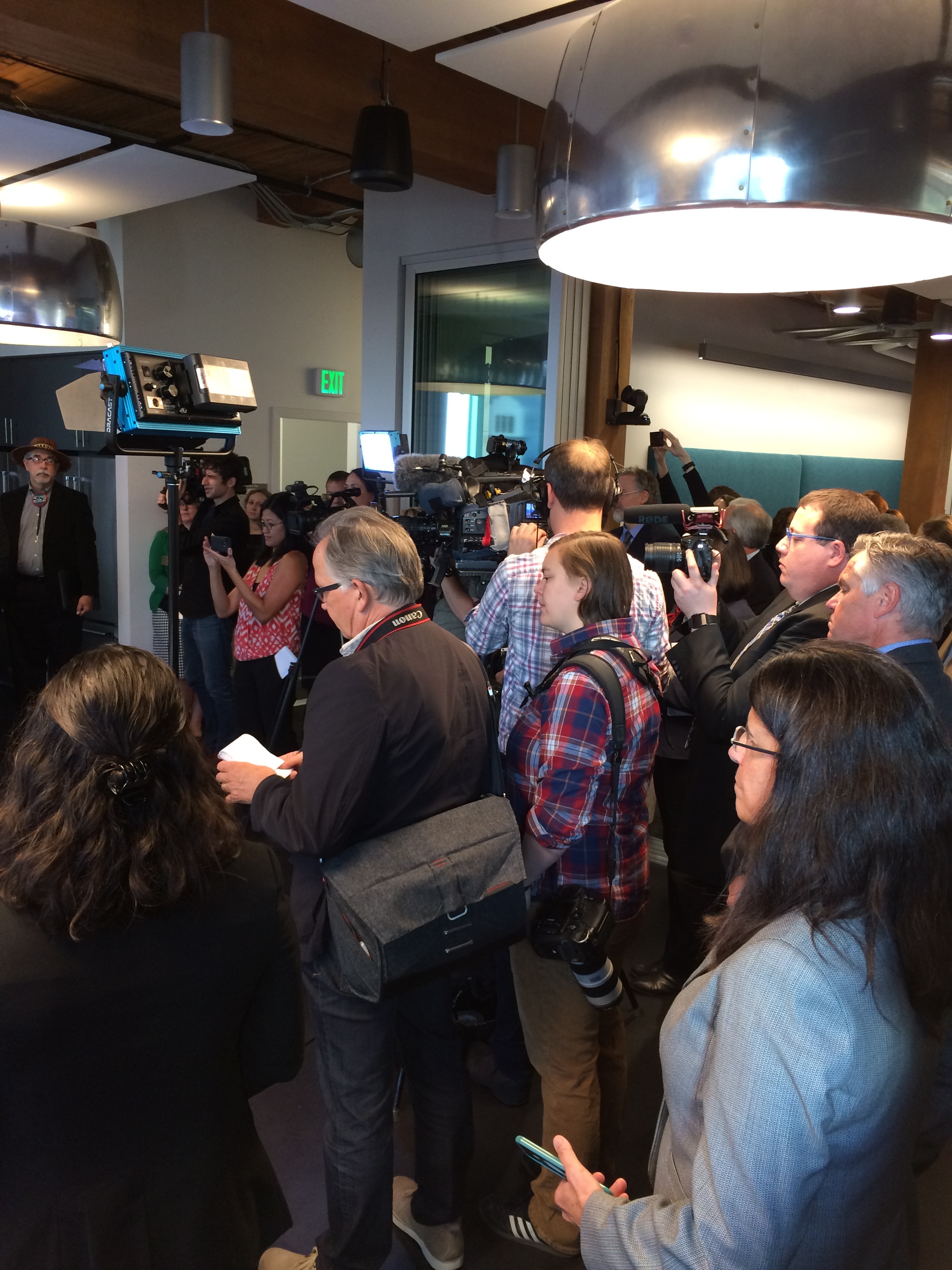 "High five to Christy from CEQ! This is better than a fourth quarter Seahawks drive!" -Chairman Mel Sheldon, Tulalip Tribes

"Save the salmon and we save the Orca... In saving the Orca, we save ourselves." -U.S. Congressman, Denny Heck
By Jessie Israel, Director, Puget Sound Conservation
Photo by Zoe Van Duivenbode
Puget Sound is a national treasure. We have orcas off our downtown shorelines, tribal histories that date back thousands of years, salmon running in our urban streams, right in the midst of one of the fastest growing regions in the country.
We were proud to host a news conference with our local, state, federal, and tribal partners about White House efforts to take the next step in saving this national treasure. As he stood in our conference room, looking out at the Sound in all its beauty, Governor Inslee said, "Today's announcements mark an important step on the path to restoring the health of Puget Sound, the recovery of our salmon species and fulfilling our nation's commitment to Washington's tribes."
As one of America's largest estuaries, Puget Sound is of national and tribal treaty significance. Recovery efforts are starting to yield results, but damage still outpaces recovery.
President Obama and Congress acknowledge that recovery in Puget Sound is still possible, and provide funding commensurate with that awarded to other estuary programs, such as Chesapeake Bay or the Great Lakes.
We are gratified to see this announcement, which elevates Puget Sound recovery as a national priority and will improve alignment among federal, tribal, state, local and non-governmental actions for salmon, for Puget Sound, and for Tribal treaty rights.
White House News Release: Taking Action to Protect the Puget Sound Watershed
Governor Inslee News Release: White House, Washington state and federal leaders announce new initiatives for Puget Sound recovery
KING: Puget Sound recovery effort gets a 'historic' $600M boost
Seattle Times/AP: Obama Administration steps up efforts to protect Puget Sound
KUOW: Puget Sound In Line for Environmental Health Boost
Northwest Public Radio: New Federal Action Plan for Puget Sound Restoration
Seattle PI: Obama Administration steps up to the plate on cleaning up Puget Sound
KOMO: Feds step up efforts to protect Puget Sound marine life
KNKX: New Federal action plan for Puget Sound restoration leverages tribal treaty rights
CEQ: Taking action to protect the Puget Sound watershed
Honored guests joined TNC team at our Washington Field Office for today's news conference:
• Jay Inslee, Washington State Governor
• Mel Sheldon, Tulalip Tribes Chairman
• Leonard Forsman, Suquamish Tribe Chairman
• Denny Heck, U.S. Congressman
• Derek Kilmer, U.S. Congressman
• Christy Goldfuss, White House Council on Environmental Quality (CEQ) Director
• Col. John G. Buck, U.S. Army Corps of Engineers
• Dennis McLerran, Regional Administrator EPA
• Barry Thom, Regional Administrator NOAA
• Martha Kongsgaard, Chair, Puget Sound Leadership Council
Our approach to recovery here is unique: we have aligned the Tribes, federal agencies, state and local governments, and multiple NGOs to agree on approaches to recovery. Increased federal action and support will accelerate this good work.
Key take home points from today's event:
The federal government is taking new action to protect and restore the Puget Sound watershed, through the establishment of a Federal Puget Sound Task Force and a new Memorandum of Understanding (MOU) directing federal agency restoration activities in the region.
White House Council on Environmental Quality (CEQ) and federal agencies are announcing new federal funding commitments to improve estuary health and contribute to salmon recovery:

A $248 million investment from EPA, the State of Washington and Puget Sound tribal governments, over the next five years, which will go toward improving estuary health. EPA is contributing $124 million through the National Estuary Program, matched with an additional $124 million from the State.
Two completed habitat studies by the Army Corps and partners with recommended funding. The first, the Puget Sound Nearshore Ecosystem Restoration Project, recommends approximately $450 million in large-scale estuary and coastal habitat restoration. The second, the Skokomish River Basin Restoration Project, recommends a $20 million project to open over 40 miles of habitat along the Skokomish River.
An additional $100 million commitment by the Army Corps of Engineers to improve fish passage at Mud Mountain Dam, located on the White River, with an initial $30 million included in the President's FY2017 budget to begin construction.