Relive 2016 through monthly photos with stories shared by their photographers. Enjoy!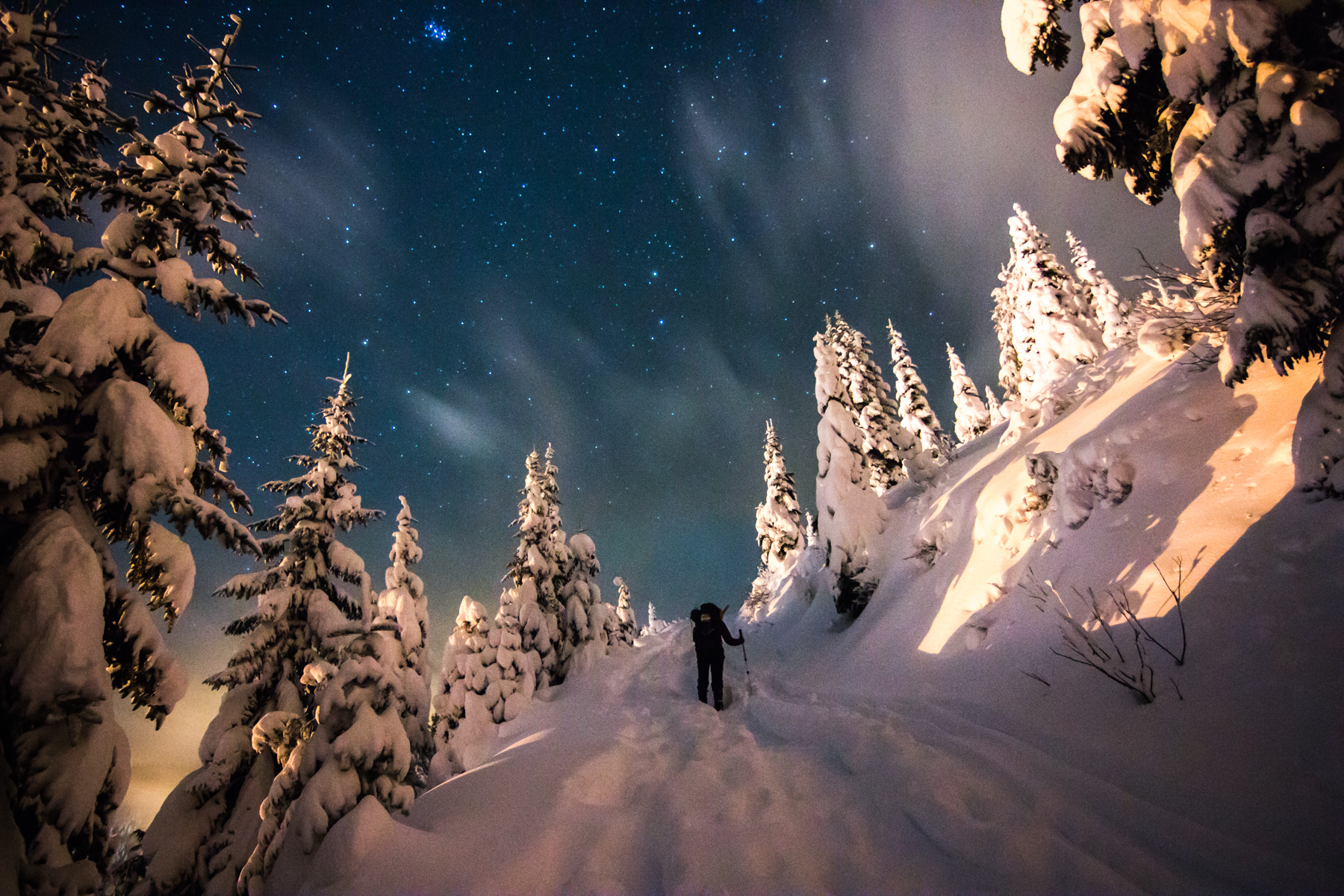 January: Into the Solstice
I started to explore these alpine mountain wonders filled with danger, excitement, physical challenges and jaw dropping views. I quickly knew I had to upgrade my camera to capture these exquisite glimpses of surreal beauty. I had to find a way to bring back a slice of what I was experiencing above the hills. My passion has always been the experience first and the photography second. The photo I'm sharing was from the longest night last year so I decided to utilize all the hours of the night. Rather than complaining about these short days, I thought why not be thankful for the long nights. These long nights filled with beautiful stars, crisp air and vast landscapes with no people around. Some of my greatest memories are hiking under the moonlight."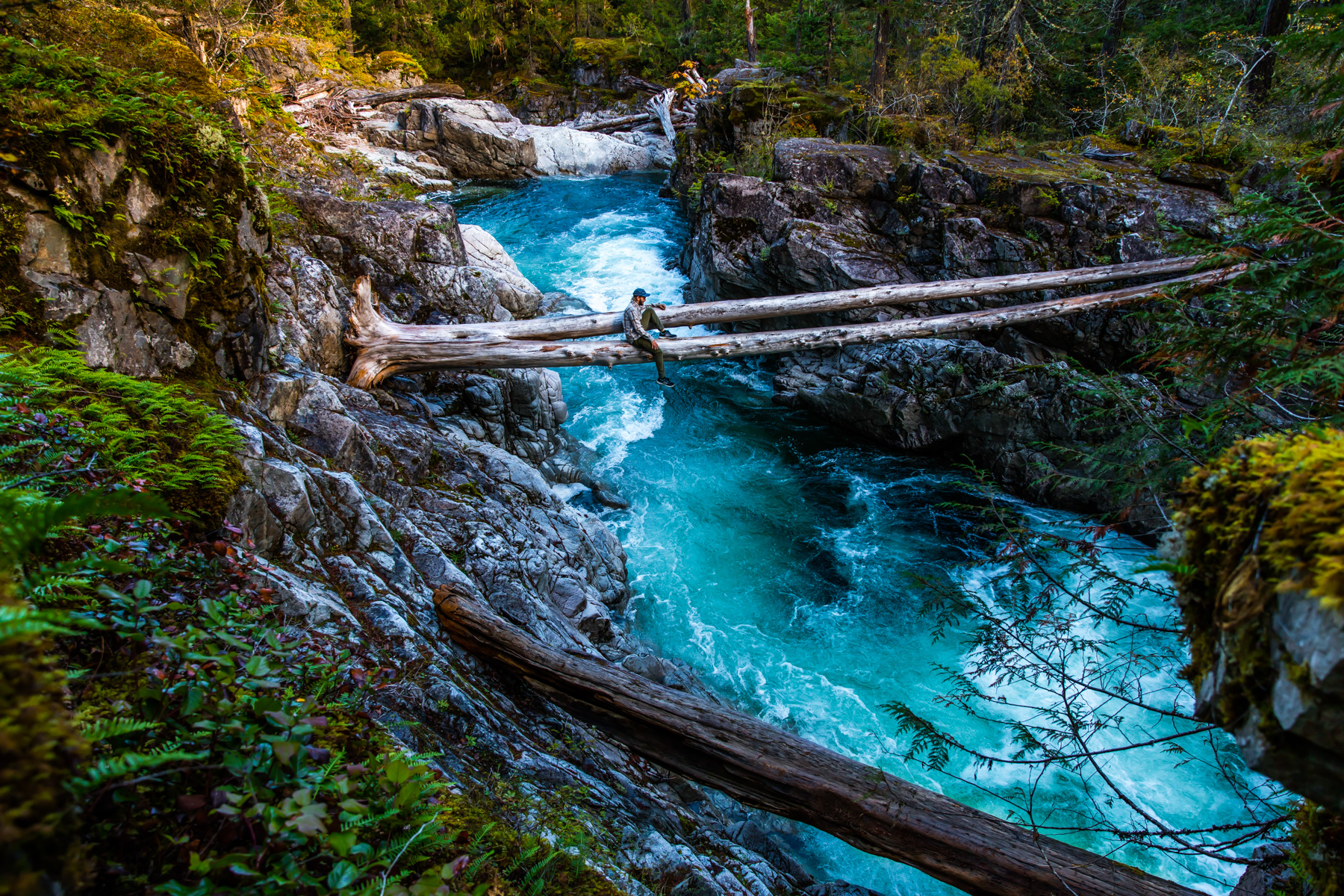 February: Exploring an Emerald Edge
"Little Qualicum Falls is one of my favourite stops when I'm headed north on Vancouver Island. Located near the centre of the island it has a great mix of lush forest greens and sparkling waterfall blues packed into a beautiful 1km loop. With the river always fluctuating throughout the seasons the landscape is constantly changing, creating new scenes each time I visit. In the winter months the river has so much power that it is constantly shifting massive fallen trees down the banks, sometimes creating natural bridges or leaving them in precarious spots for viewing such as hanging from the tops of waterfalls."
March: Welcome to the PNW
"What's the familiar saying? Sometimes the best adventures are the ones you didn't plan for. That's what you could say happened here. My friend Matt and I packed our hiking gear and grabbed our cameras, and then took off for the Columbia River Gorge. Where should we go, what should we see? Oneonta Gorge, yes. Gorton Creek Falls, maybe. What about Spirit Falls? We checked our GPS. It added nearly an hour of driving time. We quickly began passing freeway exit after freeway exit, then missed our turn off to Oneonta. I guess, Spirit Falls it is!"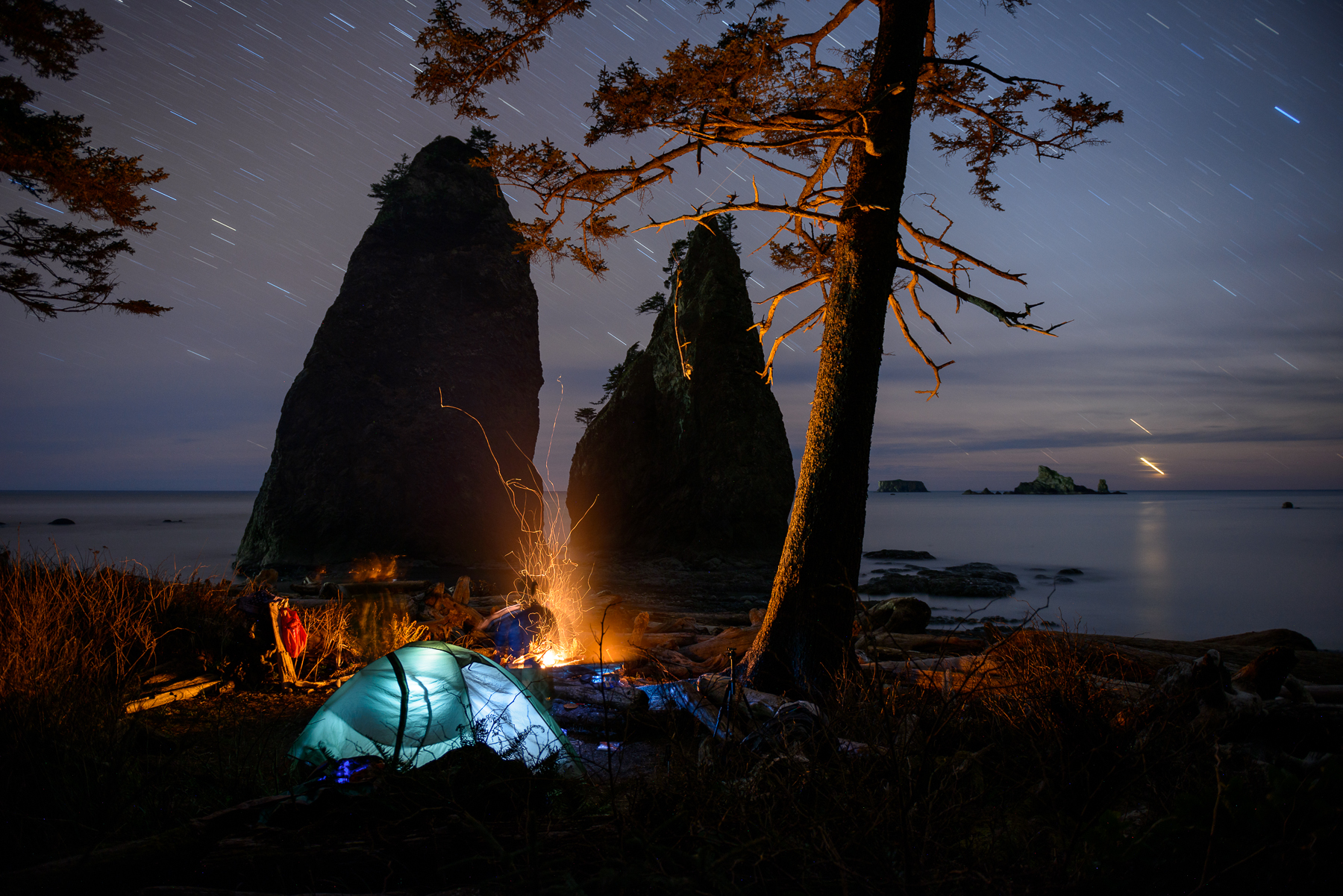 April: After Sunset
"Curiosity fuels a lot of my adventures. I love driving forest service roads just so I know what's at the end of them. Same goes for hiking trails or a campground space. There's so much to discover in the Northwest and last year, I made over 40 trips to go find what's out there. It was February of 2015 and if you remember – there wasn't any snow. It wasn't difficult to convince my friend Kit to join me for a few nights of backpacking."
May: Under the Milky Way
"Spring was in the air, the Milky Way season had started and our search for stars after the grey season was at an all time high. It was a 70 degree day so we loaded up the car and were flowing with excitement for our starry adventure. We arrived to an empty parking lot, loaded up our camera gear and got on our sun filled trail with stars on the brain."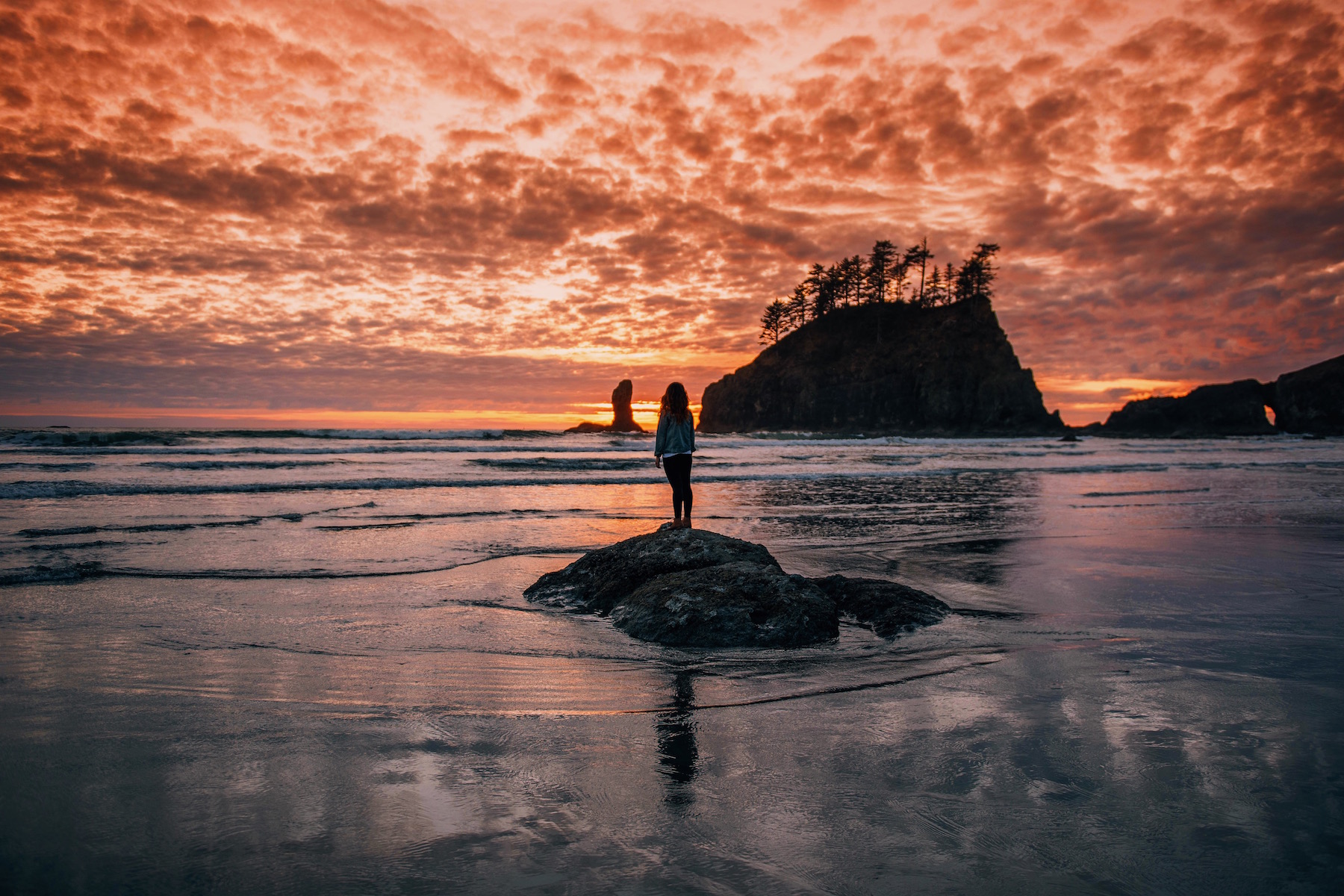 June: Mesmerized by a Golden Coast
"I once made it a goal to experience the sunrise and the sunset every day for an entire year. There is a beautiful quote that says, "There's a sunrise and a sunset everyday. And you can choose to be there for it or you can put yourself in the way of beauty." And I took that to heart. I learned from that experience that no matter how routine my day was, the sunrise and sunset never looked the same."
July: Land of Free Beauty
"Last year the northwest was treated to a very early and long summer which, to me, translated to lots of swimming! I decided early on to spend most of this long summer seeking out and jumping into as many blue and turquoise lakes as I could. This hike was to Goat Lake in the Goat Rocks Wilderness, in the center of three volcanoes, Mt. St. Helens, Mt. Rainier, and Mt. Adams."
August: Healing in the Land
"Loowit Falls chunders downward with thousands of gallons of glacial melt per hour at the foot of the blast zone on Mount St. Helens. Starting early in the day, I begin a 27 mile round trip Adventure into the blast zone with a sunset return in mind. The wildflowers are plethorus! Purple Lupine, Yellow False Daisies, Yellow and Black Arnica, and Giant Red Paint Brush all add to the surreal environment."
September: Stilled by the Streams
"This particular photo is meant to evoke calmness, the almost meditative state you feel when gazing at any creek, river or stream. The dusky light, the smoky water, the stillness of an evening where only rushing water roars in your ears."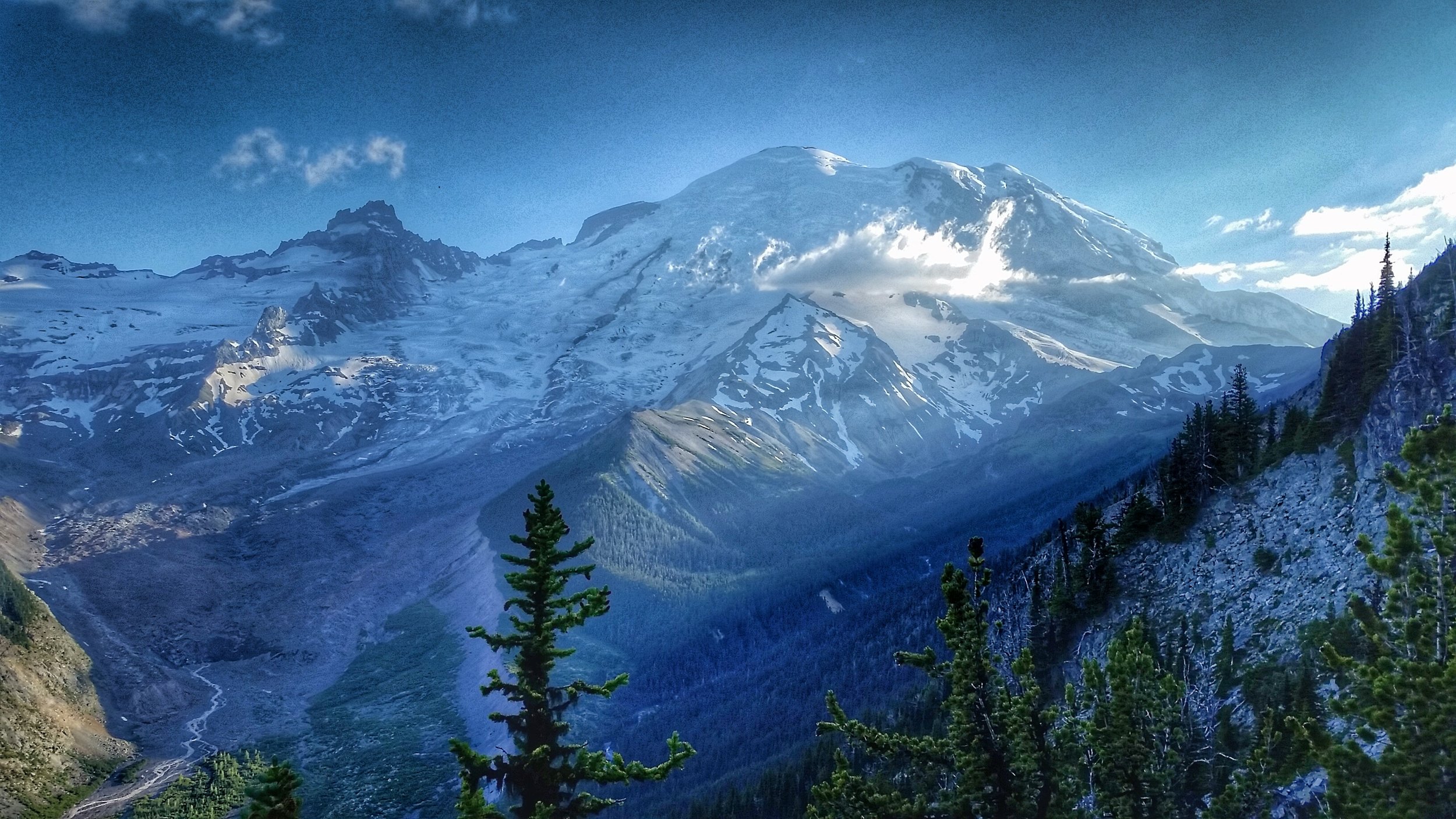 October: Believe the View
"This was a view I found in the first days of August, 2016. Starting in the early afternoon, my husband, my three-year-old and I hiked past Mount Rainier's Frozen Lake to Second Burroughs Mountain. We lingered at the crest for some time in an effort to identify the many wildflower blooms and backcountry birds that fluttered about. We've completed many hikes in and around Mount Rainier, but this was our first time in the alpine tundra and there was so much determination, resilience and hope to take in. What at first glance seemed like a barren wasteland was actually replete with life and I was mesmerized. The parallel to my own internal journey was clear."
November: An Autumn Scene with Golden Leaves
"Growing up east of the Cascades, I was always drawn to the mountains. Without the ability to enjoy the trees and prominent peaks on a daily basis, I quickly learned that the forest was something special and needed to be cherished. My family would spend countless weekends at our cabin in Packwood, enjoying the fresh mountain aromas and the surrounding sights. As a young girl, my grandfather would take me to his favorite fishing stream, Skate Creek, in hopes to land some trout for dinner."
December: Reflection on Golden Larches and Enchanted Places
"Every autumn there is an amazing transformation that takes place in the North Cascades—the turning of the larches. These beautiful deciduous conifers abandon their summer green for the warm glow of fall. This natural phenomenon is best showcased amongst the granite peaks and alpine lakes of The Enchantments. To protect this fragile environment wilderness permits, which are limited and difficult to obtain, are required for overnight trips. Unfortunately, I was unable to secure a permit during peak season and knew my only option was a one-day thru hike."